Philips has announced its new range of TVs for 2023, including the details of a new flagship OLED+ set due later in the year.
The new range of TVs include a Philips OLED+908 and OLED 808, while also spanning the breadth of TV tech to deliver something for everyone, including MiniLED, and LCD, too. They all – of course – feature Philips' signature Ambilight technology.
Every range will be powered by the newest 7th Gen P5 AI processor, promising more power across the board, with improved Ambient Intelligence reserved for the OLEDs.
Flagship OLED gets early outing
The new OLED+908 sits at the top of this. We don't usually get details on the OLED+ sets until a little later in the year, but due in the Autumn, the OLED+908 will feature the latest META OLED panel, with three-sided Ambilight and a Bowers & Wilkins sound system.
Available in 55, 65 and 77-inches, the OLED+908 uses a Micro Lens Array layer and a META brightness boosting algorithm, powered by the new P5, that will enable a potential peak light output of 2100 nits. That's a 70 per cent increase on last year, alongside wider viewing angles and improved energy efficiency too.
The updated P5 processor also allows a few other improvements – a new Super Resolution feature for better edge sharpness and object detail, and the next generation of Ambient Intelligence. This allows real-time adjustment of the brightness, gamma and color response of the screen to ensure the very best performance, all matched to the ambient lighting conditions.
That's all helped by the new XYZ light sensor that can measure the color temperature of your environment. It ensures the white point of the screen image is matched exactly to that in your room, in real time, for the very best performance.
As you'd expect from an OLED+ model, Bowers & Wilkins is on board for the sound with a 3.1 80W integrated soundbar running along the bottom, covered by a Kvadrat Audiomix cloth grille. You can expect six front-mounted drivers in a dedicated left, centre, right arrangement, plus support from a rear-mounted subwoofer and four passive radiators on the back.
The OLED+908 also debuts a new remote control with a rechargeable battery (via USB-C) and a motion sensor to detect when the remote has been lifted to activate the backlighting.
But, that's not all for OLED. The OLED 808 series adds a new screen size to the Ambilight TV range via the first 42-inch OLED model – joining the existing 48-, 55-, 65- and 77-inch screen sizes.
It too brings with it all the benefits of the new P5 processor – namely the Ambilight Ambient Intelligence V2 and the new Super resolution features – but drops the META panel in exchange for a high-output 1000Nits OLED_EX panel instead, for 55-inch and above screen sizes.
Gamers will be happy to see Dolby Vision 4K/120Hz compatibility added to the HDMI 2.1 eARC support, plus VRR support for 4K from 40Hz to 120Hz at a full bandwidth of 48Gbps.
Sound quality continues to be a consideration, and you can expect an integrated 70W 2.1 sound system – 50W for the 42-inch – with a more accurate digital crossover controlling the distribution to the two-way left and right speakers, as well as the dedicated triple ring, rear-facing bass driver.
It's lovely to look at too – with a zero-bezel design and dark metal frame, combined with a central metal swivel stand, in all but the 77-inch model, which adopts metal, flat satin chrome feet at either end of the screen instead .
New MiniLED range
Next up, is the new 'Xtra Series', a MiniLED range with two sets confirmed. The first of those is the 9308, which will be available in 55 and 65 inches and has a focus on performance and value.
It promises a 120Hz, 98 per cent DCI WCG panel, will be capable of 1000 nits of brightness, and has a 64W 2.1 Bowers & Wilkins sound system, complete with Kvadrat Audiomix fabric as we have on the OLED+908.
And while it's not quite bezel-less like the OLEDs, it still looks the part, with an extra-narrow metal bezel frame in dark anthracite and a thin strip in a brushed black sheen across the bottom of the screen to match the open frame stand .
The TV below it – the 9008 series – will also be launched in 55-, 65- and 75-inch versions featuring the same 120Hz 1000 nits panel, but with a powerful 40W 2.0 sound system instead and a feeted stand. Both will, of course, come with three-sided Ambilight built in.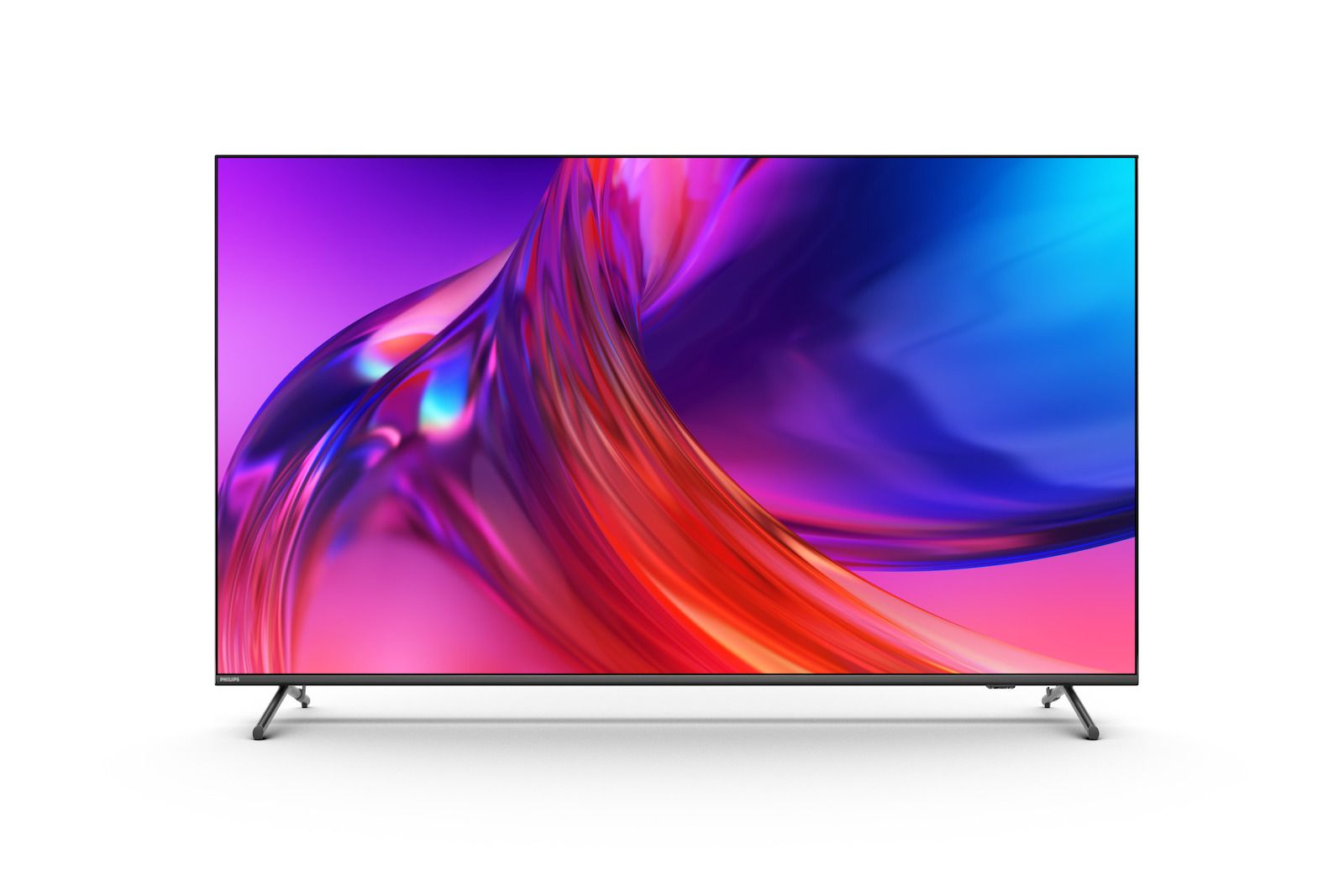 Phillips
Finally, Philips' 'The One' Performance Series gets an update in the middle of 2023 with two new models – the 8808 and 8508.
If you're not familiar with the range, it aims to deliver all the big tick boxes that someone might be looking for in a TV from a performance perspective, but at a competitive mid-range price.
These always offer a huge selection by way of screen sizes and this year is no different. The 8808 series will come in 43-, 50-, 55-, 65-, 75- and 85-inch screen sizes, while the 8508 will be available in 43-, 50-, 55- and 65-inch versions.
These will feature LCD WCG panels, with 120Hz for the 8808 and 60Hz for the 8508. However, Philips says the 8508's 60Hz panel features technology to deliver 4K/120Hz content with the motion smoothness and near sharpness of a native 120Hz panel.
Expect both series to offer three-sided Ambilight and a smart TV offering handled by Google TV, as all of 2023's Philips' TVs will.
As far as pricing goes, we are still waiting on full details but we are in Amsterdam for the launch of the ranges and will bring you all the details as soon as we have them.